17 Jul 2017

Does Your Active Child Have Heel Pain?
Do you have a child between the ages of 8- 14 who is extremely active?
Are you always driving them from one sport to another, or one game to another, 3, 4, 5 or even 6 times a week?
After all this activity a child can often experience leg and foot pain, particularly in the heel region of one or both feet.
Given the number of anatomical structures that have their origin in the calcaneus (large heel bone) there can be a number of potential conditions that can occur.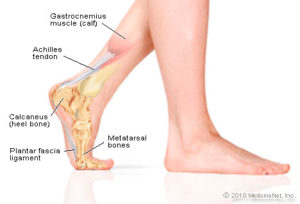 Some of the common conditions that can cause a child pain in their heel include; Calcaneal apothyitis or (Sever's Disease), plantar fasciitis and Achilles tendonitis. Even pes planus, or an excessively flat foot can lead to heel pain as excessive traction-forces of the calf muscles and the Achilles tendon are required to pull the foot up during the gait cycle.
While these conditions may have similar symptoms, treatment plans can vary when trying to manage heel pain. Imaging is sometimes necessary to specify the cause of your child's heel pain along with clinical testing of the surrounding structures.
If you have any concerns regarding your child's heel pain or activity levels that might lead to heel pain, please book in with one of our podiatrists at Children's Podiatry by calling 8645 9845 or